Pandora is the only submode of Brilliance accessed by pressing N.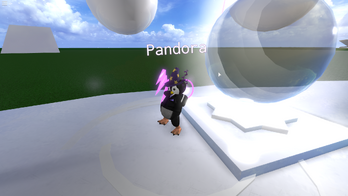 Appearance
Pandora has three pinkish-purple wings and a set of white ground slashes. Purple streaks rise up out of the ground near a Pandora user.
Gameplay
Pandora has one move, Z, which summons a box, a reference to Pandora's box, which has random effects that vary in intensity.
Trivia
The music played is Negaren: Operation Delgonflange, which is labeled as 030 in the game.
The mode was based off of the Pandora script, made by Shackluster/PityPolygon.